Oasis Car Wash uses the highest quality industry leading technology out there. Some of the features of our car washes are below:
LAVA Bath
---
LAVA is a 4 step process that gives your car the best protection and a phenomenal shine.
Low pH foam covers your car

Extra strength neutralizing foam
Weather guard paint sealant gives protection and shine
Sheet of cold water rinses and cures the finish
Buff-N-Dry Machine
---
The ideal choice to wipe away residual water droplets and gently buff painted surfaces at high volume locations for a visibly better shine that you will notice.


1. FUSION BATH
Break the bond of the most difficult surface contaminants with this specially-formulated low pH detergent. Applied in a thin sheet of foam that envelops the car and dazzles customers.
2. FUSION PRIME
Lift embedded road grime to prime painted surfaces for total adhesion of the Fusion Seal Paint Sealant. This ultra-low pH detergent is applied in precise streams that penetrate prior foam applications.
3. FUSION RINSE
Break down and remove foam residue to completely expose painted surfaces to Fusion Seal Paint Sealant. Infused into a waterfall rinse that flushes all grooves, crevices, cowlings, and behind mirrors.
4. FUSION SEAL
Lock out dirt and protect painted surfaces with our patent-pending formula that chemically bonds to the surface. Applied in dramatic overlapping droplets that evenly spread for continuous coverage.
5. FUSION WAX
Enhance the depth and quality of the shine you deliver your customer with our exclusive poly synthetic wax blended with genuine carnauba. Applied in a cascading sheet of airy foam for complete coating.
6. FUSION RAIN REPEL
Repel water and improve all-weather glass visibility with this hydrophobic spray application. Applied to glass surfaces with precision-targeted manifolds.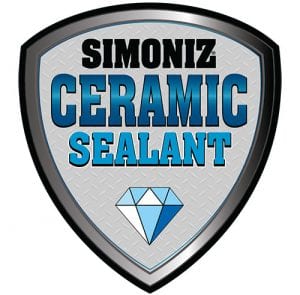 A unique molecule that when combined with a ceramic polymer and applied to the exterior surface of a vehicle, it chemically bonds with the vehicle's paint and creates a layer of durable protection. This bonding occurs because the sealant carries positively charged ions that attract themselves to the negatively charged surface of the vehicle, attracting itself like a magnet.
Being hydrophobic, Simoniz Ceramic Sealant will repel water. When water makes contact with a coated surface, it will bead up for faster runoff.
The ceramic coating makes it more difficult for grime and mud to stick to the vehicle. If these elements should adhere to the surface, the cleaning process is faster and easier.
Simoniz Ceramic Sealant will improve the reflective properties of both the paint as well as the underlying clear coat, leaving the vehicle with a clear, deep shine.
Because of its extreme durability, Simoniz Ceramic Sealant will protect the vehicle's gloss for longer stretches of time between car washing.